The tiny emerald land on the coastal area of India, Goa is the former Portuguese colony which has rich history. Spread over 3,700 square kilometres, Goa is one of the best getaway for many people in India and who visit India. Goa is just not about beaches and parties, it is a blend of Indian and Portuguese cultures that has the sweetness of sun, sea, sand and seafood. Goa also stands out for its colonial architecture and heritage truly inspired from Portuguese.
Goa is known as the "Rome Of The East". Goa is famous for its Indo-Latin festivals especially the carnivals that is witnessed by many people around the year. One carnival to look forward is the Christmas and New Year's one. If you are interested in celebrating New Year like a boss, then Goa is where you need to be in.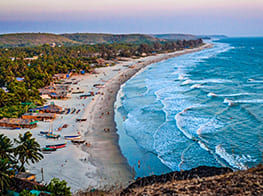 Ozran Beach
Anjuna Beach
Vagator Beach
Baga Beach
Stretched along the Arabian Sea, each beach has developed their own identity. Whether it is Baga Beach or Vagator Beach, each beach has its own story to tell. The hippie market in Vagator is something to look forward too. Goa is one of the popular destination for seafood. Many grounds full of coconut palms, Goa has a rich forest of teak, sal, bamboo, cashew, mango and jackfruit trees.
Food is fondly enjoyed in Goa. The scents, spices and flavours available in Goa's cuisine is something to vouch for. You will be surprised and mesmerised by the taste of their classic fish curry rich or the morning bhali-pau (bread roll dipped in curry) or piquant vindaloo. If you have a Indo-Portuguese taste or wanting to try it, then Goa is the right place for it. Do try out the best shacks and restaurants in North Goa.
Complete your Goa experience by visiting the pubs, casinos and affordable beer. Many people visit Goa for its amazing nightlife. The nightlife has not only attracted tourists from India but also people from outside India. People are also attracted to the golden beaches, architecture and places of worship. It is a biodiversity of flora and fauna.
As it is near the Arabian Sea and tropical zone, Goa witnesses warm and humid climate for almost the entire year. It also enjoys monsoon during June to September, pleasant during October to February. The winters in Goa begin from November or mid-December to February. It has a moderate humid weather during this time.
If you are here for a leisure time, then sit in your hotel room and enjoy reading a book or amenities provided by the hotel. Sit back, sip a cup of hot steaming coffee along with some soothing songs and read your favourite book. Goa is for people who are looking for adventure or leisure time. Visit the City of Beaches and enjoy amazing strolls or water rides.
Goa is the place where you can find relaxation and can also unleash your wild spirit in the bars and pubs.