Local Attractions
The resort is situated 2 kms from Vagator beach. The hippie culture and flea market is the thing that makes Vagator beach the most attracted beach. If you love shopping and bargaining then Vagator Beachside Flea Market (only on Wednesdays) is the place for you. It has a mix of Gujarati, Kashmiri, Tibetan shops that makes it a good place to buy souvenirs, artificial colourful jewellery, hip-hop dresses and decoration items.
For adventure you can try out jet skiing and paragliding. You can even enjoy a stroll at the beach or enjoy a swim in the water. Yoga, Reiki, Ayurvedic massages is also something that you can go for when on the beach. Sip into steaming hot coffee and enjoy the cool breeze along the beach. Don't forget to eat and drink in the nearby shacks. The best time to visit this place is during sunset and night. You can even enjoy some interesting parties in the shacks.
Visit the Chopara fort for amazing selfies and memories. This fort is a popular spot for all the tourists especially during the evening as the sunset looks amazing along the Chopara River.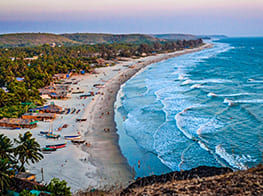 Ozran Beach
Vagator Beach
St. Cajetan's Church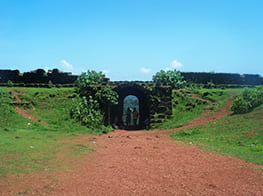 Chapora Fort
The other attractive place that you can cover on your trip is the amazingly beautiful Vagator Beach. The palm trees, white sand, cliffs and secluded nature. The beach has two segregation Big Vagator and Small Vagator. You can come here to view the sunset through the magnificent rocks. You can spend some amazing time with your friends or loved ones at Vagator beach. There are many activities that you can try out or spend some leisure time at a shack.
The beach has some adventure activities for the daredevil in you. You can even go for trekking till the top of the Chapora Fort. Once you reach there, experience the beautiful picturesque scenery of Vagator and Morjim beach.
Mascarenhas Mansion
Dolphin Sighting Tours
Flea Market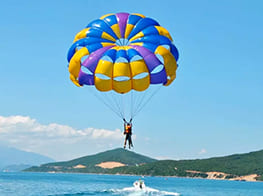 Parasailing
You can even sit on a beach chair and enjoy sunbathing at the beach. Take a romantic stroll with your loved one. There are small and interesting shops where you can shop for souvenirs for your friend back home. There are stalls that sell items like books, apparels, handicrafts, trinkets and other food items that you must try.
Apart from the sunrise and sunset view of Vagator beach, it is also famous for its parties. The place has many restaurants, pubs and nightclubs along the main road that you can visit. You will even find restaurants with live bands or karaoke nights that will make your evening even more special and entertaining. Some of the popular places are 'Hill-Top', 'Nine Bar', 'Primrose Café' that have a stunning and exciting nightlife.